New Patients
Welcome to My Wellness Chiropractic! We're glad you're here. Our friendly and modern space is an ideal place to begin your journey to healing and better health. We invite you to download your new patient paperwork, print it out and fill out the forms before your appointment. Doing so will save time.
Your First Appointment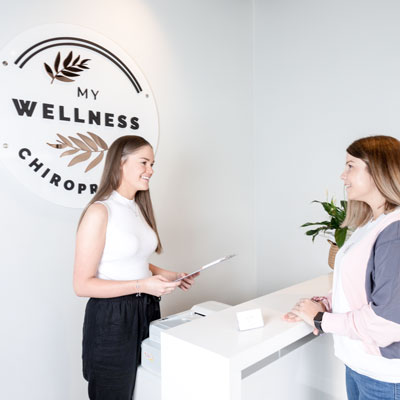 If you prefer to complete your form in advance, please arrive 10-15 minutes before the appointment. Then you'll be guided into a room so that we can perform a digital postural analysis. Some photos will be taken to analyse the health of your posture.
Then, Dr Natalie Pakzamir (Chiropractor) or one of her team members will sit with you and go through a thorough questionnaire about your history, your chief complaint and the reason why you're here. Kind and comforting, she will let you know if your condition is something that could be helped with chiropractic.
Natalie or a team member will first, of course, perform some thorough examinations beforehand to be able to tell you if she can help you. The exams include chiropractic, neurological, orthopaedic and physical exams.
Based on her findings, Natalie or of our doctors will provide a diagnosis and let you know whether we believe we can help you or not. If we can assist you, we'll go through the care plan options. If you'd like to proceed with the plan, Natalie can provide a chiropractic adjustment or therapy on that day. She'll also make X-ray referrals if it's indicated. You can get the X-rays taken at the nearby radiology center.
Please allow 45 minutes for this first appointment.
The Second Appointment
When you return for this second visit or report of findings, Natalie or a team member will review with you what she has found and explain your care plan with you. These follow-up appointments take just about 15 minutes.
Once every 10 or 12 sessions, we do a re-exam to make sure that you're on the right track and pleased with the improvements you're experiencing. Natalie and the team wants to be happy with the outcome, and you should be happy as well! At this point, you can choose to continue or stop care.[/three_fourths]

Our Three Phases of Care
The first phase of care is the pain relief phase. That usually takes a few weeks to a few months. During this phase, people come in with pain. So once we stop addressing the main complaint, the pain, after a few weeks or few months, we move to another stage. This is still part of the first phase (stabilisation phase). That's where we try and stabilise the current condition. So we prevent your issue from getting worse.
Once we pass that stage, we move on to the second phase, which is the corrective or regenerative phase. At any point of these phases, you can choose to stop your care. But if you decide to go ahead to the second phase, then that's when we maximise your resistance towards different stresses in life.
Let's take a look at the three types of stresses:
Physical stress: Physical stress would include injuries or trauma. Examples include looking down on the phone for a long time, poor sleeping posture or even prolonged standing.
Chemical stress: Chemical stress could be your diet and lifestyle. Examples include alcohol, smoking, coffee, dehydration, medication or even the environment that you're in also can contribute to a stressed body.
Emotional stress: These stressors can come in the form of thought, belief and relationships with family, friends or coworkers. Poor mental health will have a massive impact on your body and it's function.
So during the first phase, we try and achieve that pain relief and we stabilise that. During the second phase, which is the regenerative phase, we try to maximise the resistance of the body towards those stressors.
The second phase usually takes about 12 weeks. Then we can move to the last phase, which is optimisation . During this stage, our goal is to maximise the function of your brain, nervous system and your body. When that happens, we minimise the chances of you being injured.
Insurance and Payment Information
We accept insurance and take credit cards. HICAPs facilities are on-site. If you have a health fund, you can claim it on the spot.
Schedule an Appointment
Book a convenient appointment today!

New Patients | (03) 9499 2172